The Cover: ToshaMakia
___A talk with the
sexiest Puerto-Rican Mami on
hip-hop radio.
This is
ToshaMakia!_
By: Stephanie Bright_________________________________________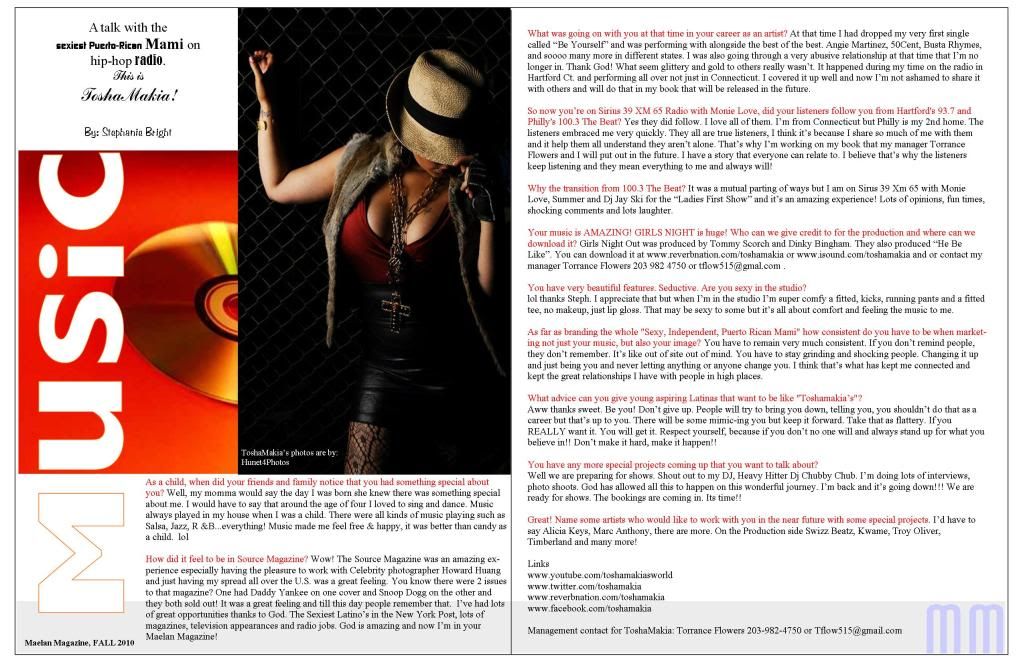 As a child, when did your friends and family notice that you had something special about you? Well, my momma would say the day I was born she knew there was something special about me. I would have to say that around the age of four I loved to sing and dance. Music always played in my house when I was a child. There were all kinds of music playing such as Salsa, Jazz, R &B...everything! Music made me feel free & happy, it was better than candy as a child. lol
How did it feel to be in Source Magazine? Wow! The Source Magazine was an amazing experience especially having the pleasure to work with Celebrity photographer Howard Huang and just having my spread all over the U.S. was a great feeling. You know there were 2 issues to that magazine? One had Daddy Yankee on one cover and Snoop Dogg on the other and they both sold out! It was a great feeling and till this day people remember that. I've had lots of great opportunities thanks to God. The Sexiest Latino's in the New York Post, lots of magazines, television appearances and radio jobs. God is amazing and now I'm in your
Maelan Magazine! What was going on with you at that time in your career as an artist? At that time I had dropped my very first single called "Be Yourself" and was performing with alongside the best of the best. Angie Martinez, 50Cent, Busta Rhymes, and soooo many more in different states. I was also going through a very abusive relationship at that time that I'm no longer in. Thank God! What seem glittery and gold to others really wasn't. It happened during my time on the radio in Hartford Ct. and performing all over not just in Connecticut. I covered it up well and now I'm not ashamed to share it with others and will do that in my book that will be released in the future.
So now you're on Sirius 39 XM 65 Radio with Monie Love, did your listeners follow you from Hartford's 93.7 and Philly's 100.3 The Beat? Yes they did follow. I love all of them. I'm from Connecticut but Philly is my 2nd home. The listeners embraced me very quickly. They all are true listeners, I think it's because I share so much of me with them and it help them all understand they aren't alone. That's why I'm working on my book that my manager Torrance Flowers and I will put out in the future. I have a story that everyone can relate to. I believe that's why the listeners keep listening and they mean everything to me and always will!
Why the transition from 100.3 The Beat? It was a mutual parting of ways but I am on Sirus 39 Xm 65 with Monie Love, Summer and Dj Jay Ski for the "Ladies First Show" and it's an amazing experience! Lots of opinions, fun times, shocking comments and lots laughter.
Your music is AMAZING! GIRLS NIGHT is huge! Who can we give credit to for the production and where can we download it? Girls Night Out was produced by Tommy Scorch and Dinky Bingham. They also produced "He Be Like". You can download it at www.reverbnation.com/toshamakia or www.isound.com/toshamakia and or contact my manager Torrance Flowers 203 982 4750 or tflow515@gmal.com .
You have very beautiful features. Seductive. Are you sexy in the studio?
lol thanks Steph. I appreciate that but when I'm in the studio I'm super comfy a fitted, kicks, running pants and a fitted tee, no makeup, just lip gloss. That may be sexy to some but it's all about comfort and feeling the music to me.
As far as branding the whole "Sexy, Independent, Puerto Rican Mami" how consistent do you have to be when marketing not just your music, but also your image? You have to remain very much consistent. If you don't remind people, they don't remember. It's like out of site out of mind. You have to stay grinding and shocking people. Changing it up and just being you and never letting anything or anyone change you. I think that's what has kept me connected and kept the great relationships I have with people in high places.
What advice can you give young aspiring Latinas that want to be like "Toshamakia's"?
Aww thanks sweet. Be you! Don't give up. People will try to bring you down, telling you, you shouldn't do that as a career but that's up to you. There will be some mimic-ing you but keep it forward. Take that as flattery. If you REALLY want it. You will get it. Respect yourself, because if you don't no one will and always stand up for what you believe in!! Don't make it hard, make it happen!!
You have any more special projects coming up that you want to talk about?
Well we are preparing for shows. Shout out to my DJ, Heavy Hitter Dj Chubby Chub. I'm doing lots of interviews, photo shoots. God has allowed all this to happen on this wonderful journey. I'm back and it's going down!!! We are ready for shows. The bookings are coming in. Its time!!
Great! Name some artists who would like to work with you in the near future with some special projects. I'd have to say Alicia Keys, Marc Anthony, there are more. On the Production side Swizz Beatz, Kwame, Troy Oliver,
Timberland and many more!
Links
www.youtube.com/toshamakiasworld
www.twitter.com/toshamakia
www.reverbnation.com/toshamakia
www.facebook.com/toshamakia
Management contact for ToshaMakia: Torrance Flowers 203-982-4750 or Tflow515@gmail.com_________________________________________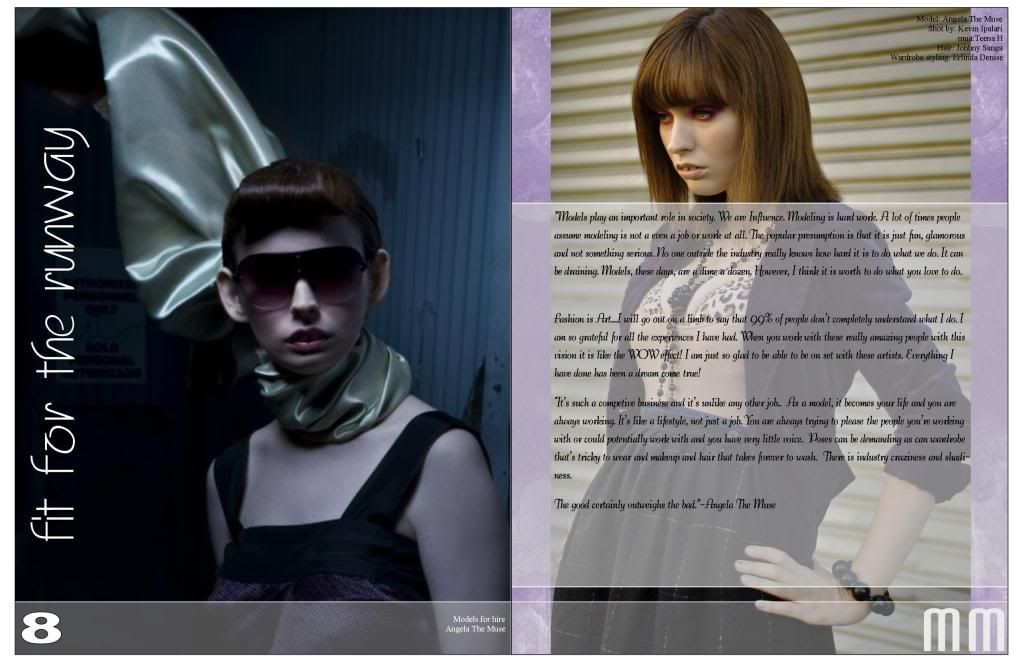 Angela The Muse On Modeling________________________________"Models play an important role in society. We are Influence. Modeling is hard work. A lot of times people assume modeling is not a even a job or work at all. The popular presumption is that it is just fun, glamorous and not something serious. No one outside the industry really knows how hard it is to do what we do. It can be draining. Models, these days, are a dime a dozen. However, I think it is worth to do what you love to do.
Fashion is Art....I will go out on a limb to say that 99% of people don't completely understand what I do. I am so grateful for all the experiences I have had. When you work with these really amazing people with this vision it is like the WOW effect! I am just so glad to be able to be on set with these artists. Everything I have done has been a dream come true!
"It's such a competitive business and it's unlike any other job..  As a model, it becomes your life and you are always working. It's like a lifestyle, not just a job. You are always trying to please the people you're working with or could potentially work with and you have very little voice. Poses can be demanding as can wardrobe that's tricky to wear and makeup and hair that takes forever to wash. There is industry craziness and shadiness.
The good certainly outweighs the bad."-Angela The Muse______________________________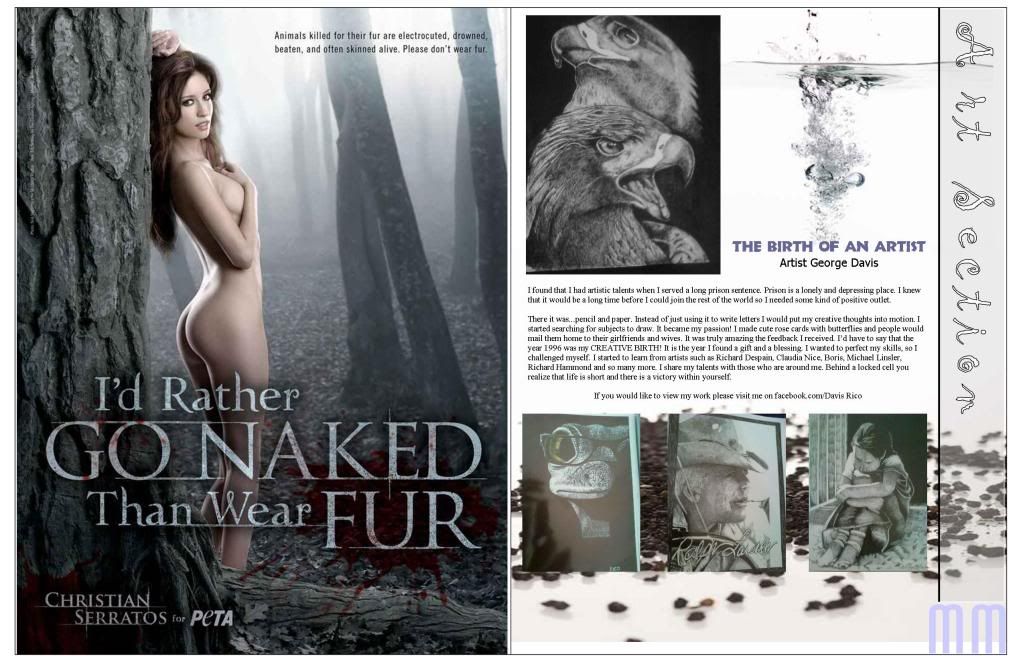 Interview with Miami Artist...George Davis__________________________________________
I found that I had artistic talents when I served a long prison sentence. Prison is a lonely and depressing place. I knew that it would be a long time before I could join the rest of the world so I needed some kind of positive outlet.
There it was...pencil and paper. Instead of just using it to write letters I would put my creative thoughts into motion. I started searching for subjects to draw. It became my passion! I made cute rose cards with butterflies and people would mail them home to their girlfriends and wives. It was truly amazing the feedback I received. I'd have to say that the year 1996 was my CREATIVE BIRTH! It is the year I found a gift and a blessing. I wanted to perfect my skills, so I challenged myself. I started to learn from artists such as Richard Despain, Claudia Nice, Boris, Michael Linsler,
Richard Hammond and so many more. I share my talents with those who are around me. Behind a locked cell you
realize that life is short and there is a victory within yourself.
If you would like to view my work please visit me on facebook.com/Davis Rico
Poet and Police Officer James McClory from NYC______As a young man James McClory was really out of control. Although he was great in school and received a full scholarship to
Baruch College, he still was in and out of trouble. He was never convicted of anything but he kept hanging with the wrong crowd.
After this huge confrontation in his old neighborhood, James quit college and joined the Marines. His military days were hard but he excelled and his highest rank was Corporal. Today James is a Court Officer in NYC. James loves his job and loves helping others.
"Seeing the little girl whose life I saved
always makes me happy."
James is also a graffiti artist and poet. He is known for using catch phrases, parables and trite expressions to get his point across. James uses poetry to clear his thoughts.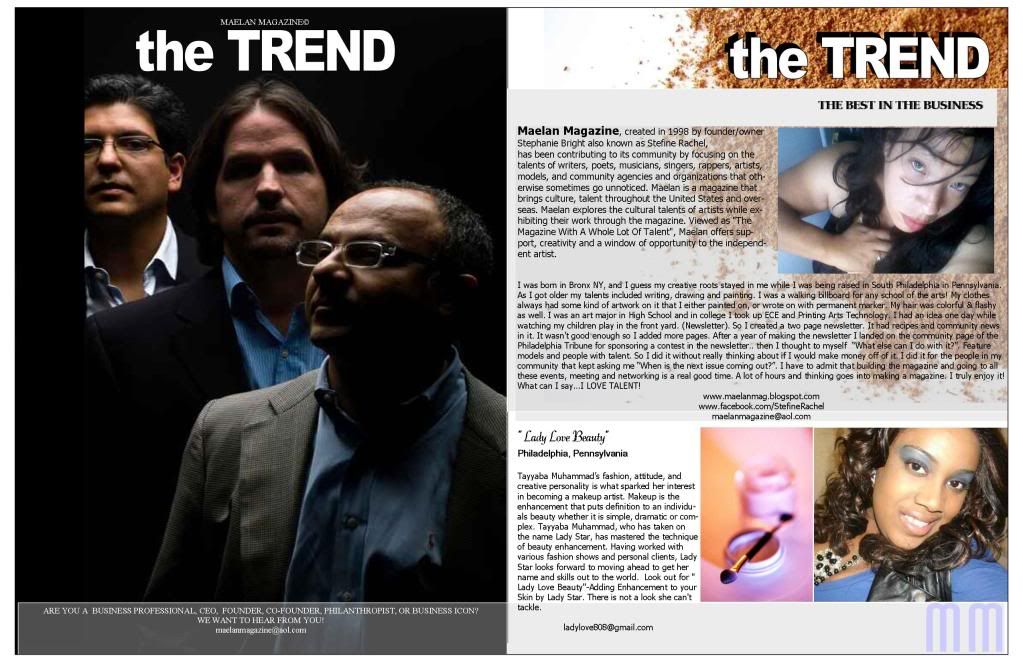 The Trend, The Best In Business!_Maelan Magazine, created in 1998 by founder/owner
Stephanie Bright also known as Stefine Rachel,
has been contributing to its community by focusing on the talents of writers, poets, musicians, singers, rappers, artists, models, and community agencies and organizations that otherwise sometimes go unnoticed. Maelan is a magazine that brings culture, talent throughout the United States and overseas. Maelan explores the cultural talents of artists while exhibiting their work through the magazine. Viewed as "The Magazine With A Whole Lot Of Talent", Maelan offers support, creativity and a window of opportunity to the independent artist._I was born in Bronx NY, and I guess my creative roots stayed in me while I was being raised in South Philadelphia in Pennsylvania.
As I got older my talents included writing, drawing and painting. I was a walking billboard for any school of the arts! My clothes always had some kind of artwork on it that I either painted on, or wrote on with permanent marker. My hair was colorful & flashy as well. I was an art major in High School and in college I took up ECE and Printing Arts Technology. I had an idea one day while watching my children play in the front yard. (Newsletter). So I created a two page newsletter. It had recipes and community news in it. It wasn't good enough so I added more pages. After a year of making the newsletter I landed on the community page of the Philadelphia Tribune for sponsoring a contest in the newsletter.. then I thought to myself "What else can I do with it?". Feature models and people with talent. So I did it without really thinking about if I would make money off of it. I did it for the people in my community that kept asking me "When is the next issue coming out?". I have to admit that building the magazine and going to all these events, meeting and networking is a real good time. A lot of hours and thinking goes into making a magazine. I truly enjoy it! What can I say...I LOVE TALENT!
www.maelanmag.blogspot.com
www.facebook.com/StefineRachel
maelanmagazine@aol.com
_______________________________________________________________________________
" Lady Love Beauty"
Philadelphia, Pennsylvania
Tayyaba Muhammad's fashion, attitude, and creative personality is what sparked her interest in becoming a makeup artist. Makeup is the
enhancement that puts definition to an individuals beauty whether it is simple, dramatic or complex. Tayyaba Muhammad, who has taken on the name Lady Star, has mastered the technique of beauty enhancemjavascript:void(0)ent. Having worked with various fashion shows and personal clients, Lady Star looks forward to moving ahead to get her name and skills out to the world.  Look out for " Lady Love Beauty"-Adding Enhancement to your Skin by Lady Star. There is not a look she can't tackle.
ladylove808@gmail.com________________________________________
More in THE TREND...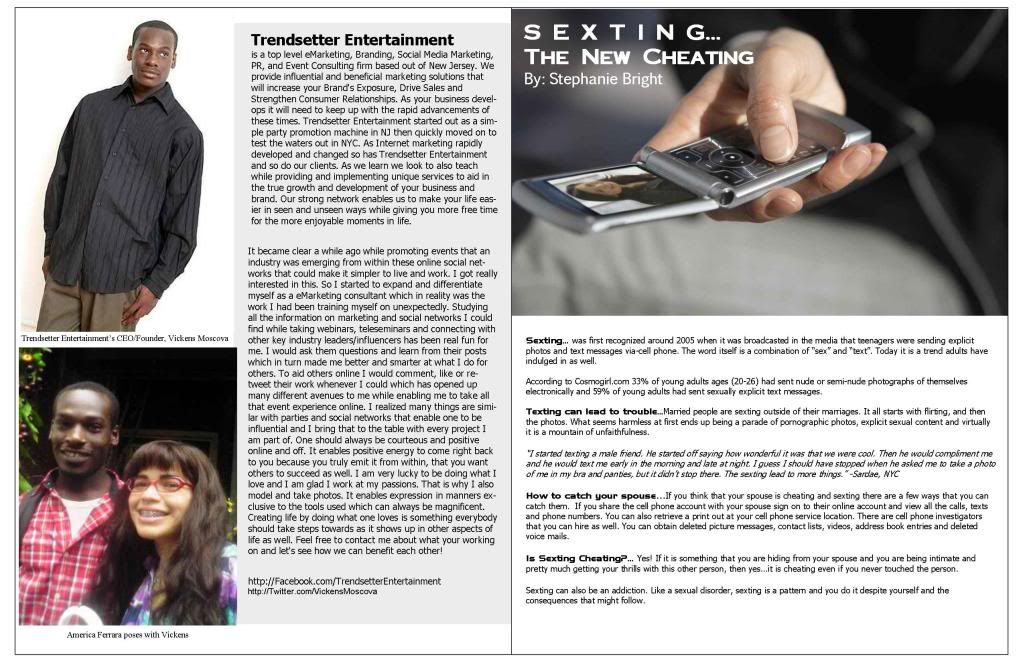 Trendsetter Entertainment
is a top level eMarketing, Branding, Social Media Marketing, PR, and Event Consulting firm based out of New Jersey. We provide influential and beneficial marketing solutions that will increase your Brand's Exposure, Drive Sales and Strengthen Consumer Relationships. As your business develops it will need to keep up with the rapid advancements of these times. Trendsetter Entertainment started out as a simple party promotion machine in NJ then quickly moved on to test the waters out in NYC. As Internet marketing rapidly developed and changed so has Trendsetter Entertainment and so do our clients. As we learn we look to also teach while providing and implementing unique services to aid in the true growth and development of your business and brand. Our strong network enables us to make your life easier in seen and unseen ways while giving you more free time for the more enjoyable moments in life.
It became clear a while ago while promoting events that an industry was emerging from within these online social networks that could make it simpler to live and work. I got really interested in this. So I started to expand and differentiate myself as a eMarketing consultant which in reality was the work I had been training myself on unexpectedly. Studying all the information on marketing and social networks I could find while taking webinars, teleseminars and connecting with other key industry leaders/influencers has been real fun for me. I would ask them questions and learn from their posts which in turn made me better and smarter at what I do for others. To aid others online I would comment, like or re-tweet their work whenever I could which has opened up many different avenues to me while enabling me to take all that event experience online. I realized many things are similar with parties and social networks that enable one to be influential and I bring that to the table with every project I am part of. One should always be courteous and positive online and off. It enables positive energy to come right back to you because you truly emit it from within, that you want others to succeed as well. I am very lucky to be doing what I love and I am glad I work at my passions. That is why I also model and take photos. It enables expression in manners exclusive to the tools used which can always be magnificent. Creating life by doing what one loves is something everybody should take steps towards as it shows up in other aspects of life as well. Feel free to contact me about what your working on and let's see how we can benefit each other!(top photo: Vickens/bottom photoAmerica Ferrara poses with Vickens)
http://Facebook.com/TrendsetterEntertainment
http://Twitter.com/VickensMoscova _______________________________________Sexting The New Cheating by: Stephanie Bright_Sexting... was first recognized around 2005 when it was broadcasted in the media that teenagers were sending explicit
photos and text messages via-cell phone. The word itself is a combination of "sex" and "text". Today it is a trend adults have indulged in as well.
According to Cosmogirl.com 33% of young adults ages (20-26) had sent nude or semi-nude photographs of themselves
electronically and 59% of young adults had sent sexually explicit text messages.
Texting can lead to trouble...Married people are sexting outside of their marriages. It all starts with flirting, and then the photos. What seems harmless at first ends up being a parade of pornographic photos, explicit sexual content and virtually it is a mountain of unfaithfulness.
"I started texting a male friend. He started off saying how wonderful it was that we were cool. Then he would compliment me and he would text me early in the morning and late at night. I guess I should have stopped when he asked me to take a photo of me in my bra and panties, but it didn't stop there. The sexting lead to more things." -Sardae, NYC
How to catch your spouse…If you think that your spouse is cheating and sexting there are a few ways that you can catch them. If you share the cell phone account with your spouse sign on to their online account and view all the calls, texts and phone numbers. You can also retrieve a print out at your cell phone service location. There are cell phone investigators that you can hire as well. You can obtain deleted picture messages, contact lists, videos, address book entries and deleted voice mails.
Is Sexting Cheating?... Yes! If it is something that you are hiding from your spouse and you are being intimate and pretty much getting your thrills with this other person, then yes...it is cheating even if you never touched the person.
Sexting can also be an addiction. Like a sexual disorder, sexting is a pattern and you do it despite yourself and the consequences that might follow.__________________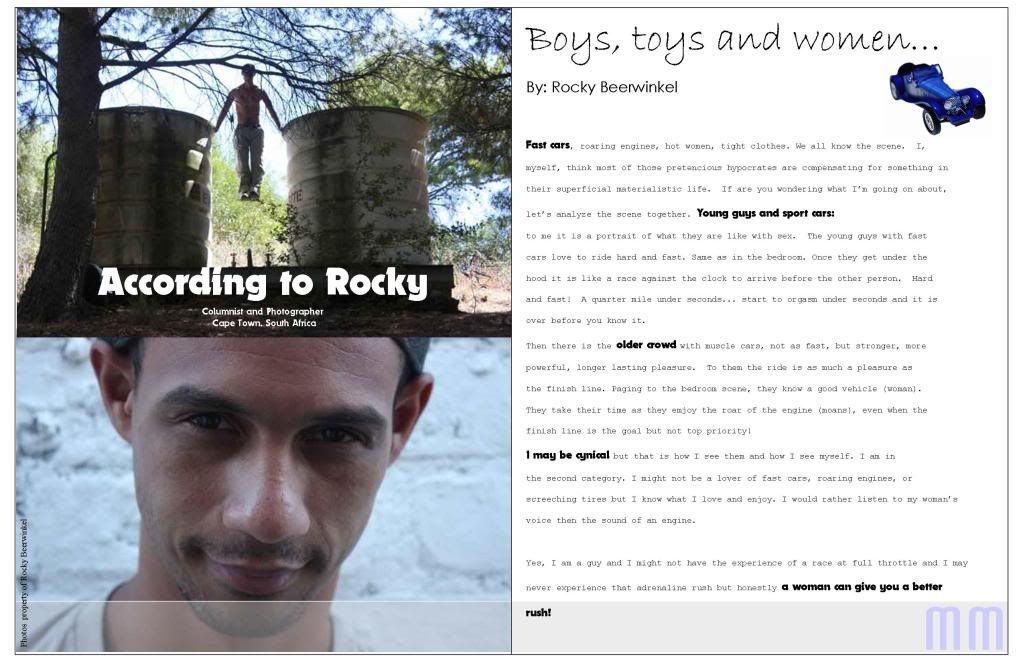 Boys, toys and women…
By: Rocky Beerwinkel
Fast cars, roaring engines, hot women, tight clothes. We all know the scene. I,
myself, think most of those pretencious hypocrates are compensating for something in
their superficial materialistic life. If are you wondering what I'm going on about,
let's analyze the scene together. Young guys and sport cars:
to me it is a portrait of what they are like with sex. The young guys with fast
cars love to ride hard and fast. Same as in the bedroom. Once they get under the
hood it is like a race against the clock to arrive before the other person. Hard
and fast! A quarter mile under seconds... start to orgasm under seconds and it is
over before you know it.
Then there is the older crowd with muscle cars, not as fast, but stronger, more
powerful, longer lasting pleasure. To them the ride is as much a pleasure as
the finish line. Paging to the bedroom scene, they know a good vehicle (woman).
They take their time as they emjoy the roar of the engine (moans), even when the
finish line is the goal but not top priority!
I may be cynical but that is how I see them and how I see myself. I am in
the second category. I might not be a lover of fast cars, roaring engines, or
screeching tires but I know what I love and enjoy. I would rather listen to my woman's
voice then the sound of an engine.
Yes, I am a guy and I might not have the experience of a race at full throttle and I may
never experience that adrenaline rush but honestly a woman can give you a better
rush!
Fitness with model Daniel J. Hunt_If you gain weight every winter, do not be discouraged. There is no reason to throw your fitness gear in the closet just because it has gotten colder. Exercise should be a very important part of your lifestyle no matter if it is summer, fall, winter or spring.
Don't stress out! The minimum will do. A cool 15-30 minutes of physical activity once a day will keep your body strong and keep you on track physically. Not only will you be physically fit but exercise during the winter months also keeps you warm. Your mood will improve and so will your self-esteem!_
"Fitness is something that is crucial to maintaining one's health and happiness. There is so many different things that we can do for our fitness. The most simple things like walking, running, or even riding a bike can be called fitness. There are many things you can do every day. People may think it consumes too much of their time to do or that they simply have no time at all. But, the truth is, these are just excuses. We have all the time in the world to do what we want. Also, fitness does not have to take hours to do. Even as little as fifteen minutes a day can have great benefits. So, just squeeze a little bit of fitness into your everyday lives. You won't regret it."-Daniel J. Hunt________________________________________________________________________________
BIG HAIR IS POPULAR! We learned how big hair can go horribly wrong with shows like Jerseyliscious and the Jersey Shore. Lets learn from it and move on! Get the volume with Samy's Fat Hair "0" Calories Best Sellers Collection. (our product pick of the month!)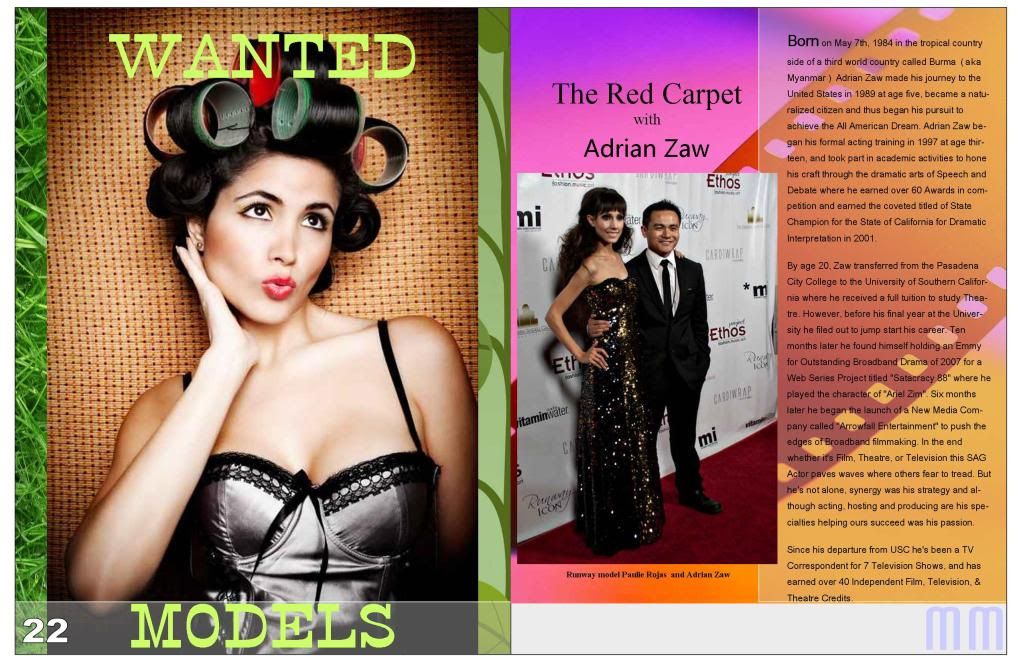 ______On The Red Carpet With Adrian Zaw_Born on May 7th, 1984 in the tropical country side of a third world country called Burma (aka Myanmar) Adrian Zaw made his journey to the United States in 1989 at age five, became a naturalized citizen and thus began his pursuit to achieve the All American Dream. Adrian Zaw began his formal acting training in 1997 at age thirteen, and took part in academic activities to hone his craft through the dramatic arts of Speech and Debate where he earned over 60 Awards in competition and earned the coveted titled of State Champion for the State of California for Dramatic Interpretation in 2001.
By age 20, Zaw transferred from the Pasadena City College to the University of Southern California where he received a full tuition to study Theatre. However, before his final year at the University he filed out to jump start his career. Ten months later he found himself holding an Emmy for Outstanding Broadband Drama of 2007 for a Web Series Project titled "Satacracy 88" where he played the character of "Ariel Zim". Six months later he began the launch of a New Media Company called "Arrowfall Entertainment" to push the edges of Broadband filmmaking. In the end whether it's Film, Theatre, or Television this SAG Actor paves waves where others fear to tread. But he's not alone, synergy was his strategy and although acting, hosting and producing are his specialties helping ours succeed was his passion.
Since his departure from USC he's been a TV Correspondent for 7 Television Shows, and has earned over 40 Independent Film, Television, & Theatre Credits. (Runway model Paulie Rojas and Adrian Zaw)________________________________________________________________________________FROM NYC...Artist Nelson Seda aka Chief69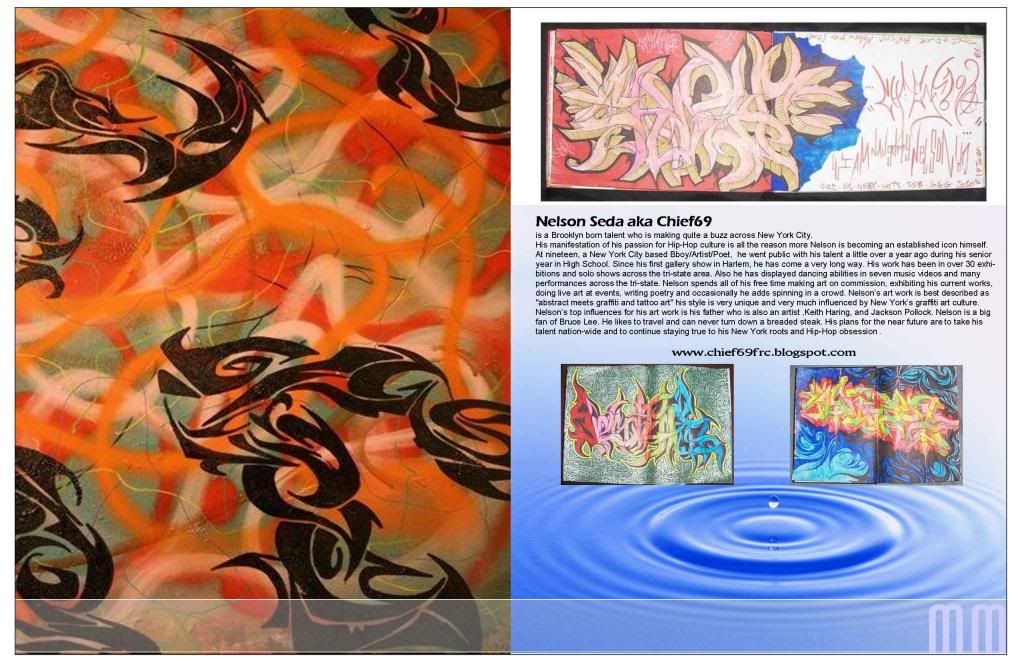 Maelan Magazine is FUR FREE!
____________________________________________________________
Affiliate: VIP TALK RADIO-The Stefine Rachel Show
Listen to
_Sex Columnist:SEXY KANDY!_ Stefine Rachel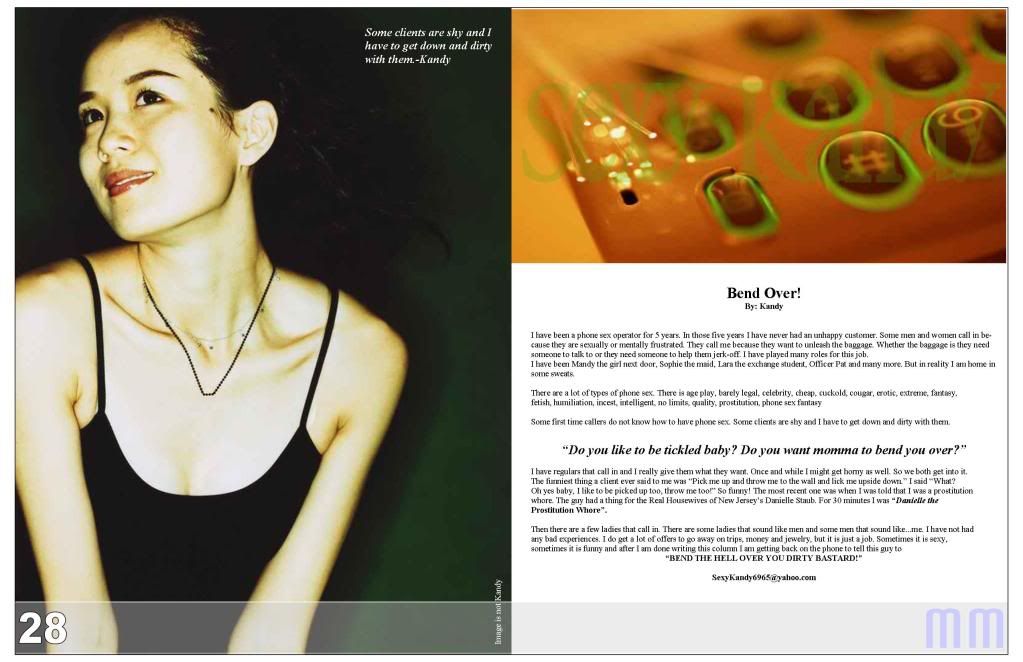 Bend Over!
By: Kandy
I have been a phone sex operator for 5 years. In those five years I have never had an unhappy customer. Some men and women call in because they are sexually or mentally frustrated. They call me because they want to unleash the baggage. Whether the baggage is they need someone to talk to or they need someone to help them jerk-off. I have played many roles for this job.
I have been Mandy the girl next door, Sophie the maid, Lara the exchange student, Officer Pat and many more. But in reality I am home in some sweats.
There are a lot of types of phone sex. There is age play, barely legal, celebrity, cheap, cuckold, cougar, erotic, extreme, fantasy,
fetish, humiliation, incest, intelligent, no limits, quality, prostitution, phone sex fantasy
Some first time callers do not know how to have phone sex. Some clients are shy and I have to get down and dirty with them.
"Do you like to be tickled baby? Do you want momma to bend you over?"
I have regulars that call in and I really give them what they want. Once and while I might get horny as well. So we both get into it.
The funniest thing a client ever said to me was "Pick me up and throw me to the wall and lick me upside down." I said "What?
Oh yes baby, I like to be picked up too, throw me too!" So funny! The most recent one was when I was told that I was a prostitution
whore. The guy had a thing for the Real Housewives of New Jersey's Danielle Staub. For 30 minutes I was "Danielle the
Prostitution Whore".
Then there are a few ladies that call in. There are some ladies that sound like men and some men that sound like...me. I have not had
any bad experiences. I do get a lot of offers to go away on trips, money and jewelry, but it is just a job. Sometimes it is sexy,
sometimes it is funny and after I am done writing this column I am getting back on the phone to tell this guy to
"BEND THE HELL OVER YOU DIRTY BASTARD!"
SexyKandy6965@yahoo.com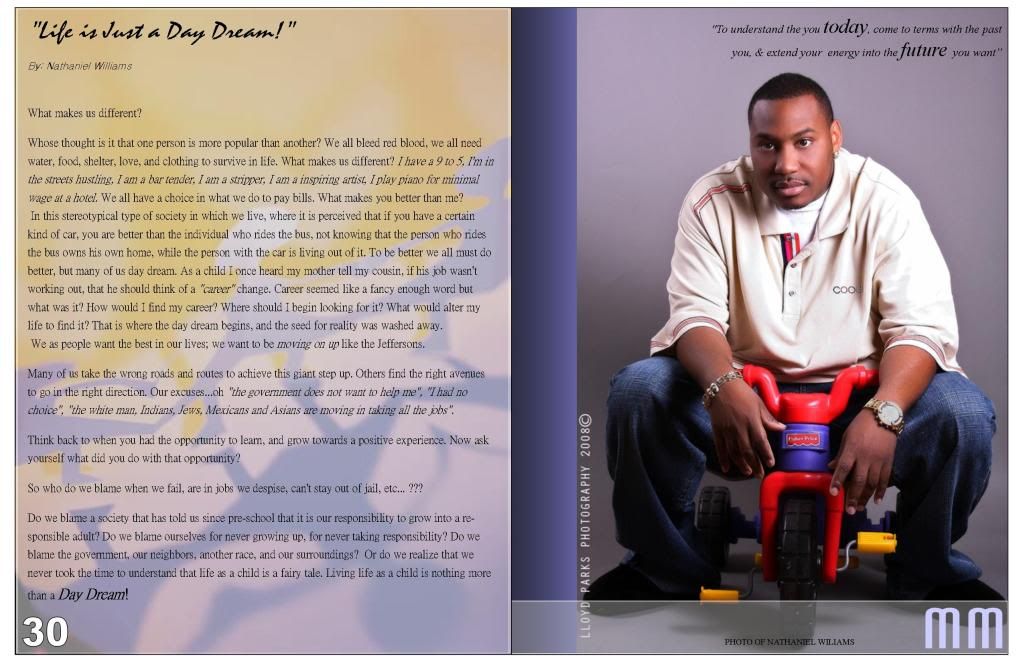 "Life is Just a Day Dream!"
By: Nathaniel Williams_
What makes us different?
Whose thought is it that one person is more popular than another? We all bleed red blood, we all need water, food, shelter, love, and clothing to survive in life. What makes us different? I have a 9 to 5, I'm in the streets hustling, I am a bar tender, I am a stripper, I am a inspiring artist, I play piano for minimal wage at a hotel. We all have a choice in what we do to pay bills. What makes you better than me?
 In this stereotypical type of society in which we live, where it is perceived that if you have a certain kind of car, you are better than the individual who rides the bus, not knowing that the person who rides the bus owns his own home, while the person with the car is living out of it. To be better we all must do better, but many of us day dream. As a child I once heard my mother tell my cousin, if his job wasn't working out, that he should think of a "career" change. Career seemed like a fancy enough word but what was it? How would I find my career? Where should I begin looking for it? What would alter my life to find it? That is where the day dream begins, and the seed for reality was washed away.
 We as people want the best in our lives; we want to be moving on up like the Jeffersons.
Many of us take the wrong roads and routes to achieve this giant step up. Others find the right avenues to go in the right direction. Our excuses...oh "the government does not want to help me", "I had no choice", "the white man, Indians, Jews, Mexicans and Asians are moving in taking all the jobs".
Think back to when you had the opportunity to learn, and grow towards a positive experience. Now ask yourself what did you do with that opportunity?
So who do we blame when we fail, are in jobs we despise, can't stay out of jail, etc... ???
Do we blame a society that has told us since pre-school that it is our responsibility to grow into a responsible adult? Do we blame ourselves for never growing up, for never taking responsibility? Do we blame the government, our neighbors, another race, and our surroundings? Or do we realize that we never took the time to understand that life as a child is a fairy tale. Living life as a child is nothing more than a Day Dream! ____________________________________________________________________________________
MORE IN MAELAN!:Featuring Photos by: Peter Kim, Vancouver, United States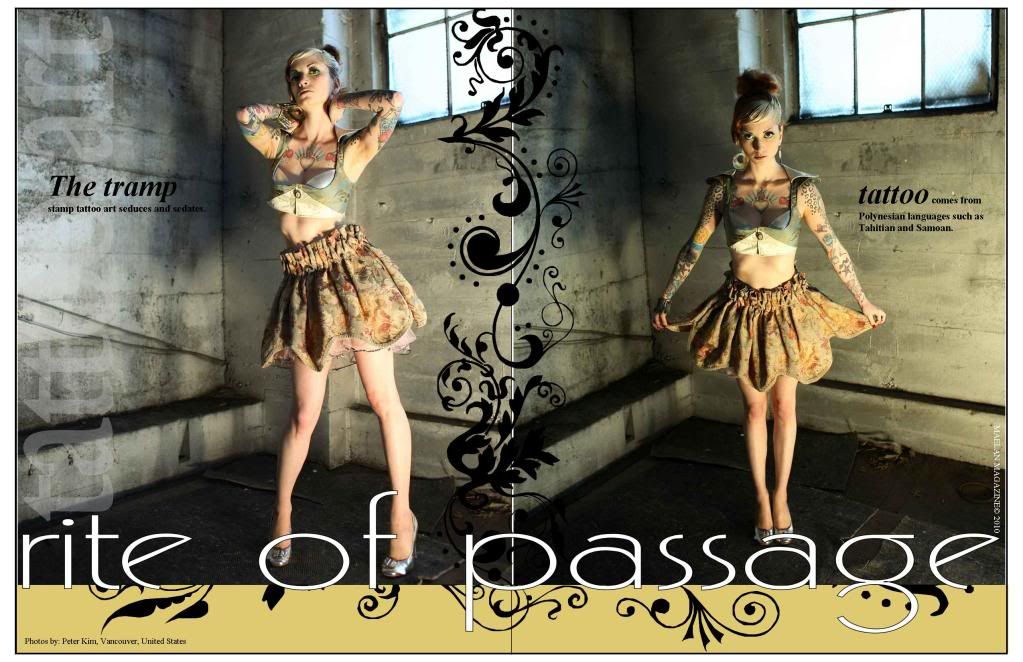 Apples Make You Pretty!...
All the way from New Zealand..Delaney and photos by: Nerina Johnson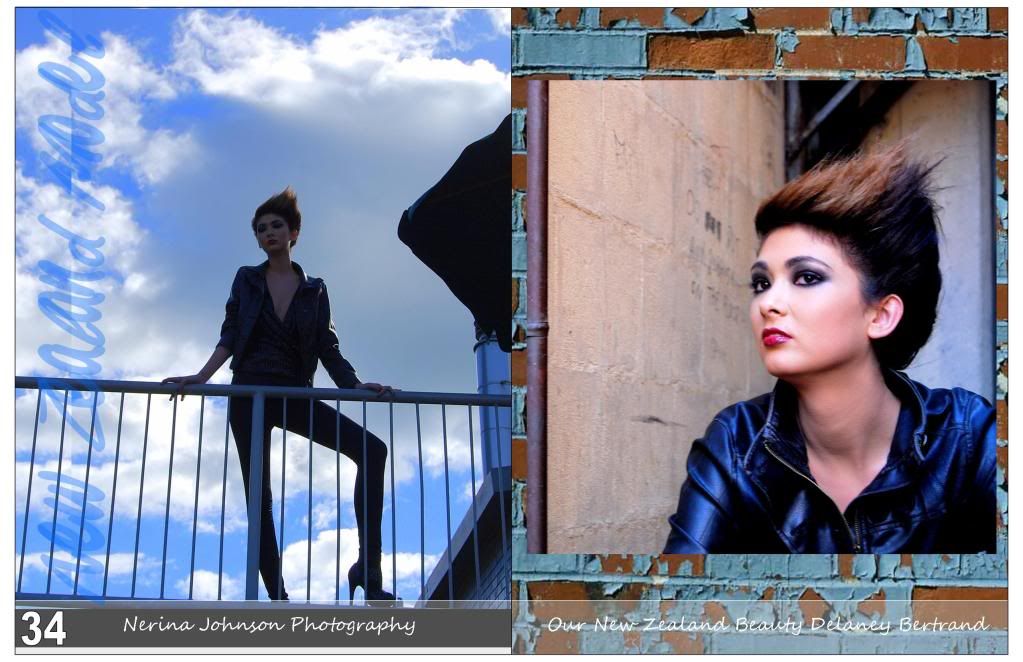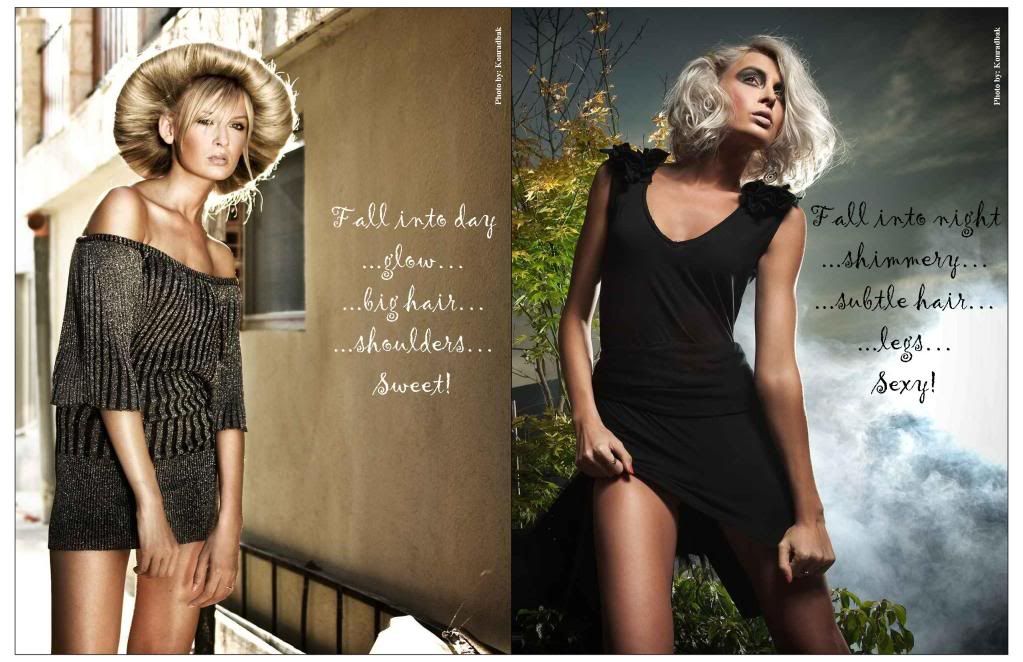 Photos ABOVE by: Konradbak
____________________________________________________________________________________
see it all in print OCTOBER 2010!